"Back from London" Letter from Dennis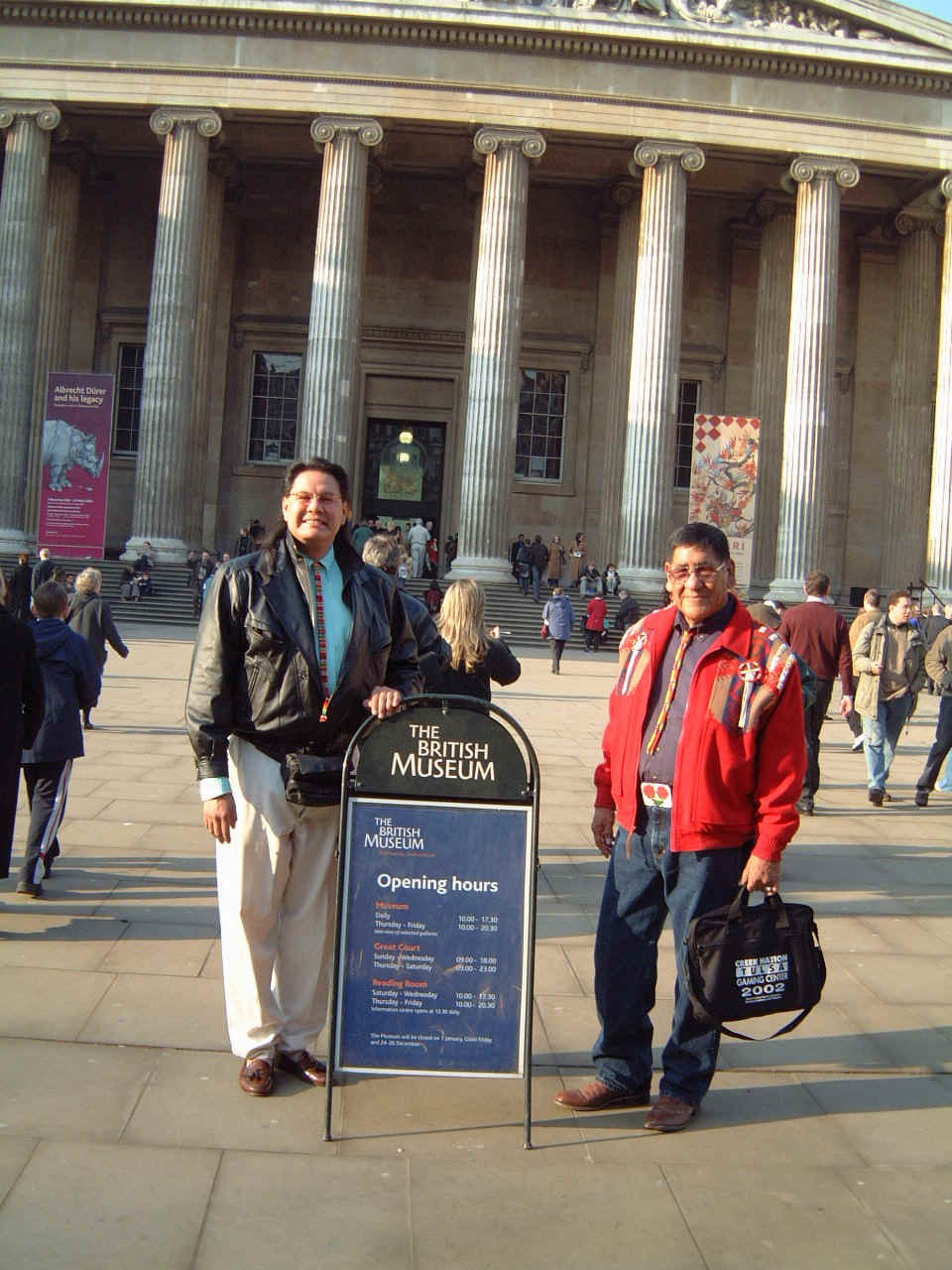 Dennis in front of "The British Museum"

---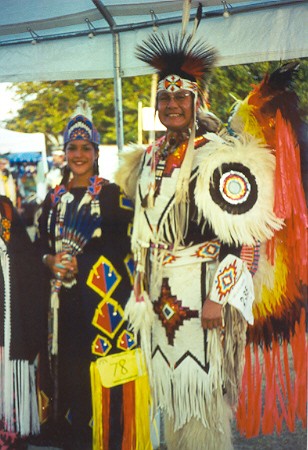 Dennis Zotigh

Dennis and Jenifer Zotigh at Kiowa Gourd Clan 2005
Dennis W. Zotigh is a Kiowa, San Juan Pueblo and Santee Dakota Indian and resides in Oklahoma City, Oklahoma. He is a member of the Kiowa Gourd Clan and San Juan Pueblo Winter Clan. He is a descendent of Sitting Bear and No Retreat, both principal war chiefs of the Kiowas.
Dennis has a Bachelor of Arts Degree in Journalism/Public Relations from the University of Oklahoma. He is currently employed with the Oklahoma Historical Society and is helping to develop the Indian Gallery, performing arts component and cultural diversity component of the New Oklahoma History Center. As Native American Research Historian, he has represented the Oklahoma Historical Society in numerous forums concerning the Oklahoma History Center, Native Culture and powwow related subjects.
Dennis began singing and dancing at Native celebrations at a very young age. He grew up learning traditional values and has extended his capabilities as a cultural promoter by learning songs, dances and their significance from Indigenous nations across North America. With his wealth of knowledge, he has lectured at universities, museums, educational conferences and symposiums both domestically and internationally on topics concerning American Indian culture. He is currently the director of the internationally known dance company - The Great American Indian Dancers.
In 1990, he and his father revived an historical art form by founding the "World's Championship Hoop Dance Contest," held annually at the Heard Museum in Phoenix, Arizona. He has been Master of Ceremonies for three consecutive years at the "Miss Indian World Competition," at the Gathering of Nations in Albuquerque, New Mexico in addition to serving various roles in numerous other Native American pageants.
In 1991, he was commissioned to write a text encompassing Native American dance titled, MOVING HISTORY: The Evolution of the Powwow. It is permanently housed and distributed by Oklahoma City's Red Earth Center, formally the Center of the American Indian. This important piece of history has led to other contributive writings including: North America's largest Indian newspaper – Indian Country Today; The Gathering of Nations: Official Powwow Booklet; The Oklahoma Encyclopedia and the Oklahoma Folklife Council's segment on "Indian life ways." Dennis has recently submitted his book to the Smithsonian for consideration for a new exhibit. It is used as a resource for a documentary presently in production by Four Directions Entertainment Inc. Underway are negotiations to republish his book through a collaboration with the University of Nebraska Press and the Oklahoma Historical Society.
In the past year, Dennis has served as a technical/cultural advisor for a four-part Hallmark Miniseries titled "Dream Keepers," in Alberta, Canada. This miniseries will air on ABC Television in May of 2003. In October of 2002, Dennis was featured on National Public Radio with a second upcoming segment to air on the subject of "The Kiowa Gourd Dance." In November 2002, Dennis choreographed the halftime Indian entertainment for the ABC Monday Night Football game between the Green Bay Packers and Miami Dolphins. Forthcoming is a speaking engagement at the British Museum in London, England, February 21-23, 2003.
As a performer, Dennis has toured 49 states and 21 foreign countries. On March 4, 1999, under his direction, The Great American Indian Dancers were selected to perform for President Clinton at the 150th Anniversary of the Department of Interior in Washington, D.C. As both an Indian dancer and singer, he has competed and won numerous awards for his talents. He currently sings with the former world champion Indian drum group "The Zotigh Singers." This popular drum group has hosted the singing for major powwows coast to coast. The Zotigh Singers have produced three CDs under the Indian House and Sweetgrass recording labels.
He is also very active in his community and has served as: Vice-President of the "University of Oklahoma Indian Alumni Committee;" a member of the Oklahoma City "Mayor's Indian Commission;" The Mid-America Arts Alliance "Multicultural Advisory Board," in Kansas City, Missouri; The Oklahoma Indian Affairs Commission's "Culture Arts Promotion Society;" The Oklahoma Indian Chamber of Commerce, The State Capitol Native American Celebration Committee; The Mountain States Museum Association and Executive Board Member of American Indian Broadcasting Inc. In addition he has worked with the Oklahoma Children's Theater to teach theater technique using Native American themes.
Dennis truly seeks to preserve the past, to broaden how Native Americans are viewed in the present and to create new opportunities for Indian youth in the future.
For more information:

British Museum Powwow Conference:
www.thebritishmuseum.ac.uk/stonyhurst/page2/powwow.html
Oklahoma Arts Council:
www.state.ok.us/~arts/Pages/rosters/ otproster2003/otpdance/greatamerican.html
Wisdom of the Elders (Radio Series):
www.wisdomoftheelders.org/prog1/transcript01_tr.htm